Workwear Bibpants Pesso Twill Stretch 
Pesso workwear bibpants from strong  Cotton fabric TWILL STRETCH with elastane. Reinforcements with RIP-STOP material. Comfortable & Flexible. 
Features:
· Triple-stitched for extra durability.
· Length-adjustable braces and elastic waist gives you an opportunity to define the optimal size.
· Special inside pockets for knee pads.

Functional pockets: phone pocket, zippered chest pocket, back pocket, a special pocket for a knife, fastened pocket on the right leg with pockets for pens.
ZIPCOVERTM system for attaching hanging pockets and keeping them securely fastened.
Removable  Cordura®  reinforced hanging pockets with great volume are ordered separately.
Material: 98% cotton, 2% elastan TWILL STRETCH
Weight: 260 g/m2
Color: grey

Sizes: 46-62
Height, cm: 176, 188, 200
PESSO STRETCH collection combines 3 pieces: trousers, bibpants and bridges.
RIP STOP fabrics features: are woven fabrics using a special reinforcing technique that makes them resistant to tearing and ripping. During weaving, (thick) reinforcement threads are interwoven at regular intervals in a crosshatch pattern. The intervals are typically 5 to 8 millimetres. Thin and lightweight ripstop fabrics have a 3-dimensional structure due to the thicker threads being interwoven in thinner cloth.
Advantages of ripstop are the favourable strength-to-weight ratio and that small tears can not easily spread. Ripstop fabrics are used in yacht sails, hot air balloons, kites, parachutes, remote control hovercrafts, camping equipment and other applications requiring a strong lightweight fabric. Ripstop reinforcement are incorporated into heavier fabrics requiring extreme durability.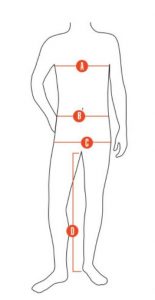 SIZE GUIDE
Take measurements whilst in your underwear. Use a tape measure. Remember to keep the tape measure tight when measuring, without pulling it. Measure according to instructions and compare your measurements with the right table. All measurements in the tables are close body sizes.
A Chest width. Measure over the widest part of the chest.
B Waist width. Measure where you normally have your waistband.
C Seat width. Measure over the widest part of the seat.
D Inside length measurement: Measure along the inside of the leg, from fork to floor.
E  Recommended height
| | | | | | |
| --- | --- | --- | --- | --- | --- |
| Sizes | A Chest measurement, cm | B Waist measurement, cm | C Seat measurement, cm | D Inside leg measurement, cm | Height |
| 46/164 | 88-92 | 76-83 | 98-102 | 73 | 160-164 |
| 46/176 | 88-92 | 76-83 | 98-102 | 77 | 170-176 |
| 50/164 | 96-100 | 84-91 | 102-106 | 73 | 160-164 |
| 50/176 | 96-100 | 84-91 | 102-106 | 77 | 170-176 |
| 50/188 | 96-100 | 84-91 | 102-106 | 82 | 182-188 |
| 50/200 | 96-200 | 84-91 | 102-106 | 82 | 194-200 |
| 54/176 | 104-108 | 92-101 | 110-114 | 79 | 170-176 |
| 54/188 | 104-108 | 92-101 | 110-114 | 82 | 182-188 |
| 54/200 | 104-108 | 92-101 | 110-114 | 82 | 194-200 |
| 58/176 | 112-116 | 102-112 | 118-112 | 78 | 170-176 |
| 58/188 | 112-116 | 102-113 | 118-122 | 82 | 182-188 |
| 58/200 | 112-116 | 102-113 | 118-122 | 84 | 194-200 |
| 62/176 | 120-124 | 114-125 | 126-130 | 77 | 170-176 |
| 62/188 | 120-124 | 114-125 | 126-130 | 82 | 182-188 |
| 62/200 | 120-124 | 114-125 | 126-130 | 84 | 194-200 |
Full Pesso workwear, shoes & protection catalog:pessosafety.eu