Hig visibility workwear bibpants P

esso Uranus Flexpro 135, HI-VIS orange
Heavyweight workwear bibpants Pesso from exceptionally strong fabric with Cordura®  
details for better durability & 4-Way Stretch fabric details for better mobility. The comfortable model does not restrict the freedom of movement.
Features:
· reinforced weave polyester/cotton fabric with strong wear resistance.
· Elastic 4-Way Stretch fabric in the back excellent mobility, comfort and breathability.
· Hammer loop.
· Ruller pocket.
· Mobile zipped pocket.
· Pre-shaped knees for a better fit and flexibility, back with 4-Way Stretch fabric for maximum comfort.
· Reinforced kneepad pockets in Cordura® for better mobility and durability.
· Hem can be lengthened by 5 cm.
· Reflective printing on the bottoms.

Functional pockets: two hanging pockets, front pockets, two back pockets, two leg pockets.
ZIPCOVERTM system for attaching hanging pockets and keeping them securely fastened.
Removable  Cordura®  reinforced hanging pockets with great volume are  ordered seperately.
Fabric features reinforced weave polyester/cotton fabric with strong wear resistance.
Material:  
Main fabric 88% polyester, 12% cotton 
100% Cordura®  fabric details
4-Way Stretch fabric details - 91,50% / Nylon 8,5% Spandex

Weight: 320 g/m2

Color: Space grey, high visibility orange
Sizes: C46-C58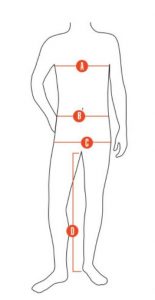 SIZE GUIDE
Take measurements whilst in your underwear. Use a tape measure. Remember to keep the tape measure tight when measuring, without pulling it. Measure according to instructions and compare your measurements with the right table. All measurements in the tables are close body sizes.
A Chest width. Measure over the widest part of the chest.
B Waist width. Measure where you normally have your waistband.
C Seat width. Measure over the widest part of the seat.
D Inside length measurement: Measure along the inside of the leg, from fork to floor.
E  Recommended height
| | | | | | |
| --- | --- | --- | --- | --- | --- |
| Sizes | A Chest measurement, cm | B Waist measurement, cm | C Seat measurement, cm | D Inside leg measurement, cm | Height |
| 46/164 | 88-92 | 76-83 | 98-102 | 73 | 160-164 |
| 46/176 | 88-92 | 76-83 | 98-102 | 77 | 170-176 |
| 50/164 | 96-100 | 84-91 | 102-106 | 73 | 160-164 |
| 50/176 | 96-100 | 84-91 | 102-106 | 77 | 170-176 |
| 50/188 | 96-100 | 84-91 | 102-106 | 82 | 182-188 |
| 50/200 | 96-200 | 84-91 | 102-106 | 82 | 194-200 |
| 54/176 | 104-108 | 92-101 | 110-114 | 79 | 170-176 |
| 54/188 | 104-108 | 92-101 | 110-114 | 82 | 182-188 |
| 54/200 | 104-108 | 92-101 | 110-114 | 82 | 194-200 |
| 58/176 | 112-116 | 102-112 | 118-112 | 78 | 170-176 |
| 58/188 | 112-116 | 102-113 | 118-122 | 82 | 182-188 |
| 58/200 | 112-116 | 102-113 | 118-122 | 84 | 194-200 |
| 62/176 | 120-124 | 114-125 | 126-130 | 77 | 170-176 |
| 62/188 | 120-124 | 114-125 | 126-130 | 82 | 182-188 |
| 62/200 | 120-124 | 114-125 | 126-130 | 84 | 194-200 |
Full Pesso workwear, shoes & protection catalog:pessosafety.eu