Workwear bibpants Pesso Canvas DPCM
Workwear  dungaress Pesso from an exceptionally strong Canvas Fabric. Comfortable  model does not restrict the freedom of movement.
Features:
· Triple-stitched for extra durability.
· Length-adjustable braces and elastic waist gives you an opportunity to define the optimal size.
· Functional pockets: phone pocket, zippered chest pocket, back pocket, special pocket for knife, fastened pocket on the right leg with pockets for pens.
· Special inside pockets for knee pads.
Fabric features: plain weave fabric shrinkage, strong wear resistance.
Material: 65% polyester, 35% cotton
Weight: 320 g/m2

Color: dark blue, black

Sizes: 46/164, 46/176; 50/176; 50/188; 50/200; 54/176; 54/188; 54/200; 58/176; 58/188; 58/200; 62/176; 62/188; 62/200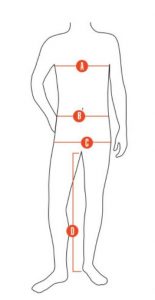 SIZE GUIDE
Take measurements whilst in your underwear. Use a tape measure. Remember to keep the tape measure tight when measuring, without pulling it. Measure according to instructions and compare your measurements with the right table. All measurements in the tables are close body sizes.
A Chest width. Measure over the widest part of the chest.
B Waist width. Measure where you normally have your waistband.
C Seat width. Measure over the widest part of the seat.
D Inside length measurement: Measure along the inside of the leg, from fork to floor.
E  Recommended height
| | | | | | |
| --- | --- | --- | --- | --- | --- |
| Sizes | A Chest measurement, cm | B Waist measurement, cm | C Seat measurement, cm | D Inside leg measurement, cm | Height |
| 46/164 | 88-92 | 76-83 | 98-102 | 73 | 160-164 |
| 46/176 | 88-92 | 76-83 | 98-102 | 77 | 170-176 |
| 50/164 | 96-100 | 84-91 | 102-106 | 73 | 160-164 |
| 50/176 | 96-100 | 84-91 | 102-106 | 77 | 170-176 |
| 50/188 | 96-100 | 84-91 | 102-106 | 82 | 182-188 |
| 50/200 | 96-200 | 84-91 | 102-106 | 82 | 194-200 |
| 54/176 | 104-108 | 92-101 | 110-114 | 79 | 170-176 |
| 54/188 | 104-108 | 92-101 | 110-114 | 82 | 182-188 |
| 54/200 | 104-108 | 92-101 | 110-114 | 82 | 194-200 |
| 58/176 | 112-116 | 102-112 | 118-112 | 78 | 170-176 |
| 58/188 | 112-116 | 102-113 | 118-122 | 82 | 182-188 |
| 58/200 | 112-116 | 102-113 | 118-122 | 84 | 194-200 |
| 62/176 | 120-124 | 114-125 | 126-130 | 77 | 170-176 |
| 62/188 | 120-124 | 114-125 | 126-130 | 82 | 182-188 |
| 62/200 | 120-124 | 114-125 | 126-130 | 84 | 194-200 |
Full Pesso workwear, shoes & protection catalog: pessosafety.eu